This post isn't technically Halloween related, but since it's part of my front porch decor, I'm including it. And it's my blog, so what?!
To keep with the theme though, let's talk about scary…. what some of the Hot-Shot-Retailers charge for their wares!!??
Take the iron lantern: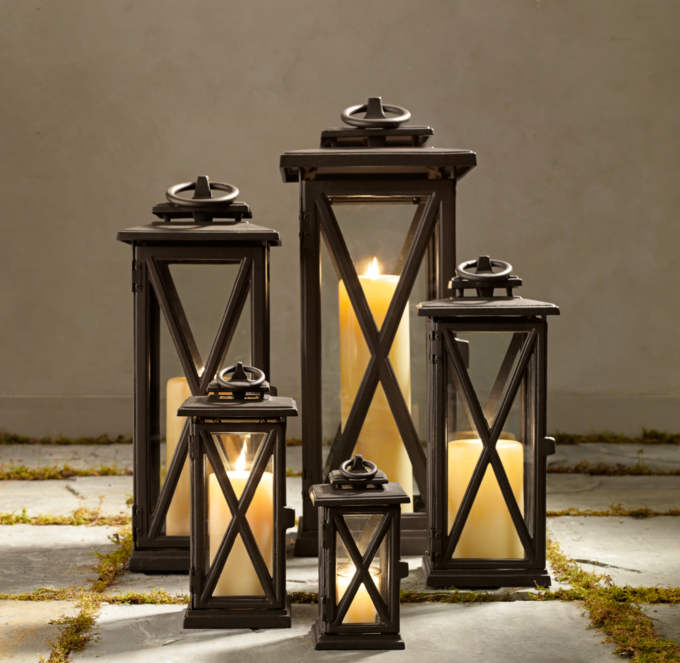 (Restoration Hardware $199 for the large)
What is in these lanterns?! Magic Genies?!
(Pottery Barn $99 for large)
Maybe if you bring the lanterns home they keep your house eternally spotless?!
(Z Gallerie $49 for large)
Oh I know, you sweat over the price until you're skinny!!!
I kid, I love those retailers, but I love a good deal even more. Like when I spied this lantern on the Pier 1 clearance shelf for 7 dolla!! Heeey!
(hello pretty red clearance tag!)
I love the red actually, but since I want to use this on my front porch, red won't really work:
Fortunately, the glass panes slid right out….and I transformed my lantern with two coats of 'Oil Rubbed Bronze' spray paint:
Once it dried, I rubbed the edges with a fine sandpaper for a more rustic look (and so the areas I'd missed weren't so obvious.)
So who's the winner in this Trick or Treat scenario?
Throw in a Twix bar, and I say it's me and my $7 gem!
Come back tomorrow when I'll show you all this magic happening on my front porch.
And don't forget to enter the 100 Posts $50 gift card Giveaway
here!