Happy hump day, friends! Do people still say hump day?? I don't really say it in conversation, but it feels like the week's halfway point should be celebrated with some fun phrase, right!? I'm thrilled ya'll loved yesterday's Dressing Room Diaries, and found some new fun things for Spring. It sounds like lots of us will be twinning with our military/field jackets!
Many of you know my grandfather was a monumental part of my life, and a void I still feel. I've written about him several times on the blog, after all, he's where the 'Hi Sugarplum' originated! But another hugely influential person to me has always been my grandmother.
She's a little-bitty thing with a big personality, the epitome of a Southern lady, and one of the most stylish people I know. Her taste has always been impeccable and timeless, so virtually everything in her closet is still relevant. There's a reason why I wore her wedding dress!
Every year before school started, my grandmother would pick me up in her giant Cadillac, and we'd drive to Dallas for the day. We always started with lunch at the Neiman Marcus tea room, then a trip to Bloomingdales, where she'd let me choose an outfit (with her highly opinionated input) for the first day of school. My parents married really young, so we didn't have much when I was growing up (except lots of love, right Mom!?), which made this day, and that outfit, even more special.
Over the years, I've learned countless style tips from her…some I picked up on my own, and others she volunteered freely. (Did I mention she was opinionated?!) One thing she was always adamant about was wearing lipstick…the brighter the better! I can still hear her saying, 'Go put your lips on!' I hated it when I was younger, but clearly it rubbed off on me! No matter the time of day or occasion, you'll almost always find me with bright pink lips…even on the slopes of Big Sky, Montana!
Wearing vivid shades of lipstick can brighten your whole face, and give you the appearance of a whiter smile. Even if I'm not wearing makeup, I'll add a quick swipe of bright pink to my lips, plus a little mascara, for a more polished look. Throw on a pair of sunglasses, and no one will know you just changed out of your pajamas moments earlier! In fact, I didn't wear make-up once on our Spring Break trip, but I had my lips on everyday!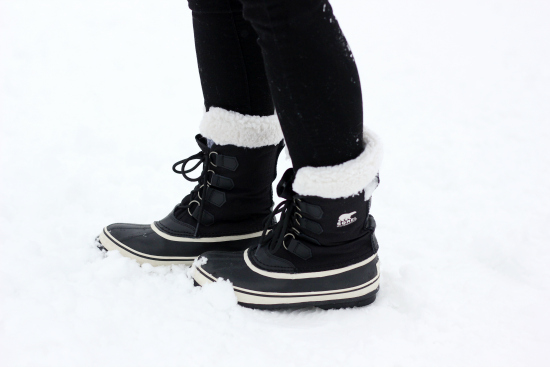 I lean more towards pinks than reds when choosing lipstick color…it just feels more casual to me. Not to mention, easier to apply. I seem to miss my lip line every time I wear red!!
You know from my Favorite Beauty Products post that I'm mostly a drugstore girl, except when it comes to lipsticks! I want something that's going to moisturize and stay put all day…and truthfully, the department store brands last a lot longer, so they end up costing about the same as their drugstore counterparts.
One thing I always do when buying lipstick though, is wait for a fun Gift with Purchase promotion! I think Lancome consistantly has the best gift sets, chock full of really good (and actually usable) items. They are running one now, with not only $130 worth of free goodies, but you get to choose the set that fits your needs best!
I haven't tried too many of their products or makeup, but I always have a tube of their lipstick in my bag! So are you a bright lips kind of girl, or do you prefer softer nudes? Who's your biggest personal style influencer?
{Put Your Lips On!}



*Thank you, Nordstrom, for collaborating on this post. And thank you to my sister, who snapped these fun shots for me, then promptly stole my lipstick!*