Thanks for the love on yesterday's style post…I loved hearing where you stand on shorts, and apparently we all have a love of good cut-offs! Here's today's big ole brain dump of what's been rambling around my head lately!
ONE // I always hate sharing fun finds with you, only to have them sell out. But I'm happy to report several of my favorite pieces  are now back in stock…including several closet staples from last year. Remember this darling embroidered dress from our trip to Spain? Well, sadly it's not back…but I found one almost identical here. There's even a romper version here, and a similar style dress in plus size here. I can hardly wait to pull this cutie out again!
My go-to sneakers are not only super comfy (seriously, I wore them all over Europe last year), but they are stylish, as well. It's fun to be a tourist, but no sense in looking like one! My mom has them in red, and they just released this daring chambray color. I'm sooooo tempted. (Remember to size down half for a more comfortable fit!)

Utility Jacket | Striped Tee | Jeans | Sneakers | Crossbody Bag | Sunglasses | Similar Necklace
This black shirtdress sold out in a hot-minute, but it's back in black…and red!
Shirtdress | Necklace | Tassel-Tie Shoes
This embroidered clutch adds so much fun and personality to so many outfits, but it can't seem to stay in stock for long. As of the moment I pressed 'publish' on this post though, it was restocked!! #fingerscrossed And these are the cropped pants mom now owns in 2 solids and 1 pattern!
Fit Tip: She wears a 4P in the pants, and I wear a regular 0.

Tie-Back Sweater | Gingham Pants | Embroidered Clutch | Platform Espadrilles
This color block fit-and-flare was another popular dress from a recent Dressing Room Diaries, and it's now back in both this combo, and a cute navy and pink version. You can see how it looked on Mama Sugarplum here.

Color-Blocked Dress
And lastly, I know this is a totally random restock alert…especially considering Summer is on the way…but these amazing over-the-knee boots are back in all colors and sizes, and can't be missed for under $100. Seriously, you'll thank me next Fall! Read my full review of them here.
OTK Boots | Jeans | Deer Print Bag (use code SUGARPLUM10 for 10% off!) | Necklace | Moto Jacket | Favorite Cami Tank | Over the Knee Boots | Pendant Necklace | Sunglasses | Clutch | Hoop Earrings
TWO // Y'all, look at my sweet boy. Who's really not a boy at all, but a true young man, a gentleman. He grows and changes a little bit everyday, and it's scary, and exciting, and heart-breaking all at the same time. But I could not be more proud to be his mother!! And watching how funny and considerate he is with his darling girlfriend makes me even more proud. These pics were from their Sadie Hawkins dance a few weeks ago…aren't they just the cutest?!
THREE // In a big #pinchme moment, I made a guest appearance on John and Sherry's very fun, very entertaining podcast! We chatted about being bold and colorful in design, and I tried with all my might to sound like I knew what I was talking about! Well, I guess I know a thing or two about colorful design, but talking about it is a whole other thing! And why is it so hard listening to your own voice?!
In true Young House Love style, the podcast is really well done, and all the episodes are excellent listens. Check out No. 43 to hear me babbling (I start around the 15-minute mark)!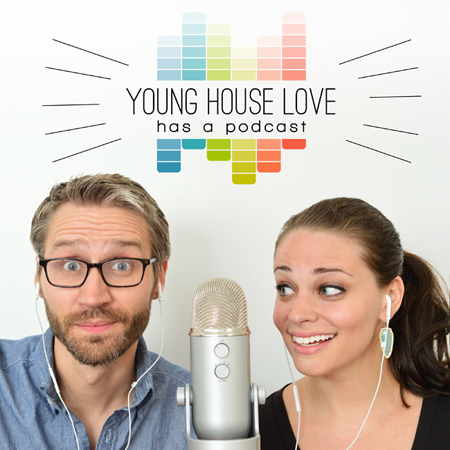 FOUR // Bauble Bar has quickly become one of my favorites for statement earrings and necklaces…they just add so much to an outfit (see what I mean here and here). Did you know they now have an affordable line at Target now, too?!?! Sugarfix by Bauble Bar has so many great, affordable pieces! (Update: Bauble Bar is having a 50% flash sale on some best sellers!)
FIVE // This picture makes me so happy…I love these people, and their sweet relationship!! We were celebrating Little Miss's birthday…but I also caved and gave Mama SP her Mother's Day gift early! If you follow me on Instagram, then you heard her squealing on my Story over her new palm print monogrammed bag. (And yes, I used code SUGARPLUM10 for 10% off her gift!!) #noshame
SIX // Mr. Sugarplum and I will celebrate 20-years of marriage next Summer. (Although, I was so mad at him last week, that mile marker was questionable! #kidding #kindof ) So of course that means I'm already scheming a trip…and I want it to be a reeeealllly good one. Like 20th anniversary good!
After following along with my friends Ashley and Jared's honeymoon, I pretty much decided it needed to be French Polynesia! And thankfully, she's not only blogging all the gorgeous pics, but sharing tips on how to go semi-affordably!!
SEVEN // Speaking of trips….we're heading out for another amazing experience with our friends at Princess Cruises!! I can't even believe it, and have no idea how we finagled another invitation. And this time it's Scandinavia and Russia!!!! #saywhaaaaaat I know our past Trip Reports have been helpful to many of you (seriously, half the emails I get are about those cruises!), so I can't wait to share these ports! We fly to Copenhagen, Denmark this Friday, and board the Regal Princess Sunday afternoon!!
This is the longest cruise we've taken, so I'm a little anxious about being on the ship (and away from home) so long…so I'd love any tips from you seasoned cruisers!! This trip will take us to Berlin, Tallinn, St. Petersburg, Helsinki, Stockholm and Oslo…yep, seven countries in 12 days!! I'm super excited about every single stop, but honestly don't know much about any of them. I'd love to hear your recommendations!
EIGHT // I can't talk about a cruise without talking about what to wear, right?! It's actually pretty chilly in Scandinavia right now, so it's going to be a different bag than the one I packed to the Mediterranean last year. But one thing remains the same…dinner dresses! I love to wear a gorgeous maxi for formal night, and so far I've tried these….do you have a favorite? I also ordered this flowy pink and white midi…I think it's a strong contender! Especially since it's on sale!

Blue & White Floral (size 0P)

Off-the-Shoulder Maxi (size 0P)

Watercolor Halter Maxi (size 2P)
NINE // Finally, a few items I've featured lately are now on super-sale, starting with this colorful pom-pom clutch and pink cold-shoulder dress.
Favorite Tee | Gingham Shirt | White Jeans | Pom Pom Clutch | Wedges | Leopard Belt | Sunglasses | Necklace | Hoop Earrings

Cold Shoulder Dress | Striped Version
TEN // My OCD won't allow me to end the post with only nine, so I'm throwing these new arrivals in pink…because they're just so cute!!!
What's rambling through your head these days? I'd love to hear what's going on in your world!